Spartanburg, South Carolina
1200 E. Main Street, Ste 6
Spartanburg, SC 29307
In the Fresh Market shopping center

(864) 585-0409
Open Today Until 5:30 pm
| | |
| --- | --- |
| Monday | 9:00 am - 5:30 pm |
| Tuesday | 9:00 am - 5:30 pm |
| Wednesday | 9:00 am - 5:30 pm |
| Thursday | 9:00 am - 5:30 pm |
| Friday | 9:00 am - 5:30 pm |
| Saturday | 9:00 am - 5:30 pm |
| Sunday | 12:00 pm - 4:00 pm |
Denise & Eric Patten Franchise Store Owners
View Our Store Site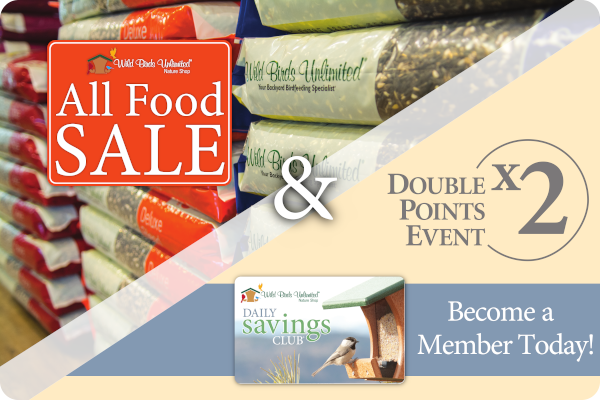 Save 15% on ALL Food and Earn Double Points!
Our All Food Sale is the perfect time to save on the foods you already love or try out some of the new amazing food offerings we have here, such as:
WBU Seed Blends: We offer a variety of seed blends perfectly formulated to please the birds in the Upstate. Our blends contain no fillers - just ingredients that your birds will love!
No-Mess Cylinder: Birds will flock to this tidy food option. Our No-Mess Cylinder includes sunflower chips, peanuts, tree nuts, and cherries.
Bark Butter: No bird food attracts more species of birds than Bark Butter®. a spreadable suet that can be easily smeared on tree bark, a Bark Butter Feeder, or on the side of your cylinders! Also available in a Hot Pepper variety to discourage squirrels!
Fiery Feast: Essentially a "hot pepper" version of our No-Mess Blend, this seed is sure to satisfy your birds but defeat your squirrels!
Our Double Points Event, in conjunction with our Food Sale, will give Daily Savings Club members DOUBLE credit towards their Bird Bucks! This means for every dollar you spend, you get TWO(2) points instead of one, or that you only need to spend $100 to receive a $10 Bird Buck!
15% OFF All Bird Food; Earn Double Points!*
*Offer valid in-store only at the Spartanburg location. Double Points offer valid only for Daily Savings Club members. Food Sale offer valid on all bird food, including all seed, cylinders, suet, and mealworms. Not valid on previous purchases or sales. One discount per purchase. Offer valid through 10/31/19.
---