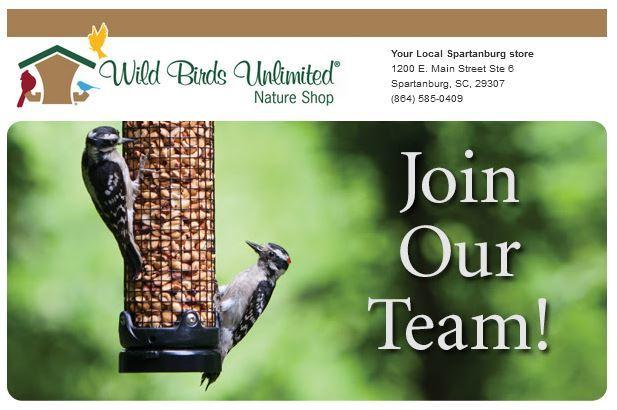 Are you our next great employee?
We are seeking a Sales Associate with great retail and service skills. Working at your locally owned Wild Birds Unlimited store is an opportunity to support and educate our friendly customers about birds and nature.
The Retail Sales Associate is primarily responsible for ensuring a great customer experience, assisting and educating customers, ringing up customer purchases, carrying seed and large purchases to the customer's vehicle, restocking merchandise, processing incoming deliveries, re-bagging seed, and maintaining the cleanliness and appearance of the store.
JOB REQUIREMENTS
Sincere desire to learn about the hobby of backyard bird feeding and nature
Previous retail store sales experience a plus, but not required
Flexibility to work a variable schedule, including weekends, holidays, and extra hours as needed
Good customer service and phone skills
Ability to multi-task in a fast-paced environment
Outgoing personality and ability to approach customers
Computer experience – ability to touch-type (speed not important)
Physical ability to perform this job (lifting up to 25 lbs, bending or kneeling down repetitively, standing up to 4 hours without sitting, reaching & lifting overhead, etc.)
High school diploma or equivalent
FUNCTIONAL RESPONSIBILITIES
Delivers a great customer experience – providing product information, assisting customers with solutions, educating customers with hobby information.
Promotes excellent customer service by greeting and assisting customers; respond to customer inquiries and concerns in a professional and timely manner.
Operates the point-of-sale (POS) computer to process customer purchases.
Performs all financial activities effectively – including cash handling, implementing price changes, ensuring all POS transactions are completed accurately.
Carries seed and large purchases to the customer's vehicle.
Maintains a visually appealing store – ensuring visual merchandising and organization are kept to the highest standard.
Restocks merchandise daily and maintains the store's visual merchandising.
Processes incoming deliveries and price merchandise.
Prepares bird food products as needed (seed, mealworms, stackable refills, etc.).
Maintains the cleanliness and appearance of the store – includes vacuuming of rugs, dusting of merchandise and fixtures, sweeping and mopping of floors, and washing of windows.
Follows defined work schedules.
Other duties as assigned/required.
BENEFITS
Competitive wage
Employee discount
Complete retail & sales training programs – online & in-store
Interact with great customers who enjoy nature
Positive, professional work environment.
Job Types: Full-time, Part-time
COVID-19 considerations:
All team members are required to wear a mask. Curbside pickup available. Common surfaces are sanitized regularly.
Click here to download an employment application. Applicants can send the completed application to [email protected] or hand in the application at the store.